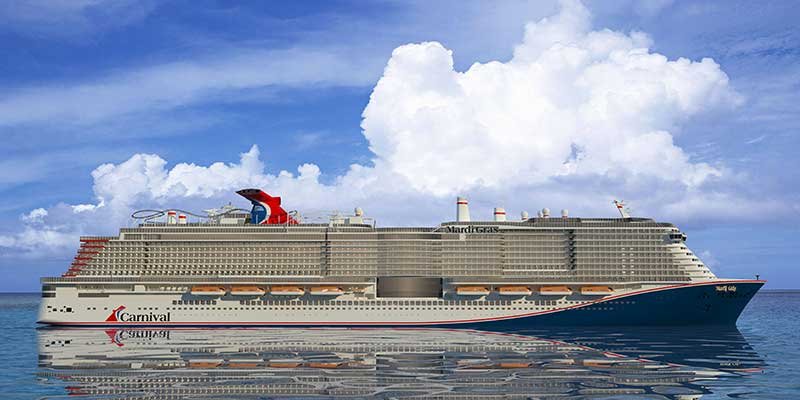 New Cruise Ships to set sail in 2020
By Satyaki Dutta
The global travel and tourism industry is having a surge of fresh ideas since beginning of New Year. The cruise industry is not left out of this trend too. It got a major boost when the Carnival Corporation & plc, the world's largest leisure travel company, announced that it will launch four new cruise ships in 2020 across four of its global cruise line brands.
The corporation, whose cruise line has a strength of 105 ships, has a fleet enhancement strategy in place to meet the accelerated consumer growth in cruise, one of the rapidly growing segments of the vacation industry. With sixteen new ships scheduled to be delivered through 2025, they are ready to improve the overall guest experience and better serve them.
Four major players from the Carnival Corporation- Carnival Cruise Line, Costa Cruises, P&O Cruises and Princess Cruises, is going to launch four new cruises, starting from the Q2 2020. The innovative new ships are pinnacles of sustainable vessels which offer an extraordinary guest experience at a steal value.

Roger Frizzell, CCO, Carnival Corporation said, "Each new ship is an opportunity to generate excitement among the worldwide consumers, whether loyal guests or new to cruising, that will continue to inspire more travellers to consider cruising as a vacation option,"
Carnival Cruise Line is introducing Mardi Grass, their largest ever cruise ship in November. The company has released a behind the scenes video series for this launch. The cruise will start from Port Canaveral with year-round seven-day Caribbean cruises.
Costa Cruises is set to launch Costa Firenze in October 2020, dedicated to the Chinese market. For the target customers, there are a series of attractions, like a wide Chinese food option, Chinese-style karaoke and parties with surprises and gifts. However, with the breakout of the novel coronavirus infection in China, the picture looks a bit bleak for Costa Firenze this year.
P&O Cruises is introducing Iona, their first LNG ship. Its major highlight is the Grand Atrium at the heart of the ship, framed by glazed walls, with uninterrupted panoramic views of the sea. Regarding the journey, Paul Ludlow,President,P&O Cruises said, "P&O Cruises is promising to deliver opportunities for guests to discover hidden secrets in these wonderful ports. We've used insider knowledge to develop shore visits and adventures that will be off the beaten track and give once-in-a-lifetime local experiences."
Princess Cruises is introducing Enchanted Princess in June 2020 from Rome. The panoramic view from the balcony of the Sky Suites, Take Five or the only jazz theatre at sea and the Phantom Bridge, the world's first immersive game with digital and physical elements- there are many more to explore in this cruise.